Why live in Jupiter, Florida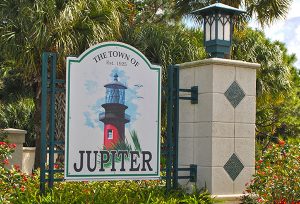 Apart from the many well known publications that rank Jupiter Florida amongst the top small towns in America for kids to grow up, new and established families, seniors, young adults,  sports athletes and famous celebrities. The town of Jupiter Florida has just about everything from a very active boating, diving, golfing, fishing, equestrian, sports and entertainment lifestyle to peaceful parks with trails and rivers that offer kayaks, and beaches that are constantly ranked at the best in America by experts and dog lovers.
People who have lived in many places in Florida know Jupiter offers not only an easy going, small town, beachy feel, but also offers a private lifestyle that attracts movie and music stars, professional athletes, families and business people from other states and Florida towns.
Jupiter Zip Codes: 33418, 33458, 33469, 33478
As of 2017 the population of Jupiter was 64,976 living in the three districts of Jupiter that comprise the Jupiter neighborhoods. Other statistics can be found below:
Households: 25,439
Median household income: $79,882
Miles of Paddle Trails: 39.2
Acres of Land: 14,812
Businesses: 3,651
Miles of Beach: 3.4
Acres of parks, natural areas and preserves: 3,235
The city of Jupiter also created a great resource which we also recommend downloading ( The Town of Jupiter New Resident Guide ) which provides the list of officials and their contact information, directory of essential services, and other budget, demographic as well information about parks, schools, maps and more.
If you are looking for more information about Jupiter Florida we have included below links to the top resources that can help find just about anything you would like to know about Jupiter and it's lifestyle.
Things to do in Jupiter Florida
Visit the Jupiter Lighthouse
Watch the St. Louis Cardinals or Florida Marlins spring training at the Roger Dean stadium
Watch the weekly events and live concerts
Turtle hatchling walk
Hiking or biking at the parks and beach trails
Kayaking at the Loxahatchee river
Visit the Nature conservancy blowing rocks in Jupiter Island
Visit the Dubois or Carlin Park playgrounds or picnic areas
Golf at the Abacoa Golf Club
Visit the Jupiter Riverwalk and enjoy more than 2 miles of Intracoastal Waterway and the Jupiter inlet
See Christmas decorations or dress up and walk around for halloween at The Heights of Jupiter
Enjoy the Jupiter Jubilee annual community event – see more special Jupiter events
Take your dog to the beach – Jupiter Beach Map
Top Fine Dining Restaurants in Jupiter Florida